Exhibition October 19 − November 18, 2018
Botanical painting at Sergey Andriaka's School of Watercolor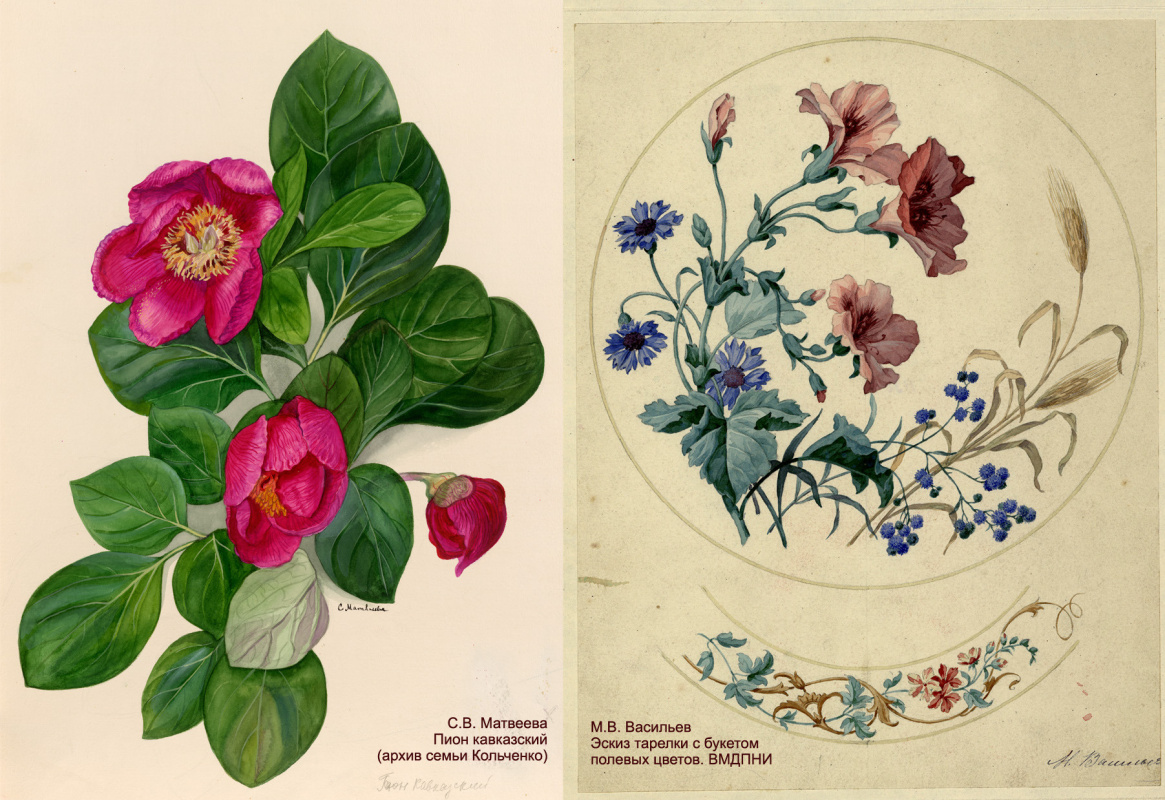 The school of watercolor by Sergey Andriyaki invites everyone to the exhibition "Botanical painting. Science and Art ", which will be held from October 19 to November 18, 2018. Within the exposition you will see old graphics, engravings, books, albums, fabrics, embroidery, porcelain, wallpaper designs, which in one way or another contain images of representatives of the" Kingdom of Flora ". In the windows of the exhibition you can see charming albums, where the girls of the XIX century painted cute watercolor bouquets, and the gentlemen wrote love poems.
An interesting and varied exposition makes unique pieces of art from collections of collectors, as well as works by contemporary artists.
Visitors to the exhibition are waiting for the opening - for the first time, beautiful watercolor paints of the painter Konstantin Tikhonovich Mankov are on display for the first time. Konstantin Tikhonovich won his fame as an unsurpassed master of artistic painting, whose technical skill and artistic taste were repeatedly noted at All-Russian art exhibitions.
Especially for this project, the designer of the Creative Association "AGORApro" Anna Tolstikova with the help of modern IT-technologies created the author's shawl "Flower Clock". Olga Ionaitis, an illustrator of children's books, presented two beautiful flower arrangements at the exhibition. Like fabulous fairies of forests and meadows, such familiar plants as clover, nettle, burdock and wormwood, written by the Russian artist Marina Khankova, appear before us.
The exhibition will feature items from the collection of the Museum of Decorative, Applied and Folk Art, the State Museum of AS. Pushkin, MSU Scientific Library Lomonosov, Museum-Estate "Arkhangelsk", Biological Museum named after KA
Timiryazev and, of course, you will see the works of artists, teachers and students of the School of Watercolors, as well as students of the Academy of Watercolors and Fine Arts, whose artistic director is Sergey Nikolaevich Andriyaka, People's Artist of Russia.
Supported by:
State Museum-Estate "Arkhangelskoe"
http://arhangelskoe.su
State Biological Museum. K.A. Timiryazev
http://www.gbmt.ru/ru/index.php
State Museum A.S. Pushkin
http://www.pushkinmuseum.ru/
All-Russian Museum of Decorative, Applied and Folk Art
http://www.vmdpni.ru/
Scientific Library of Moscow State University Lomonosov. Department of rare books and manuscripts
http://nbmgu.ru/about…cture/127/