Exhibition April 24 − May 5, 2019
Petersburg youth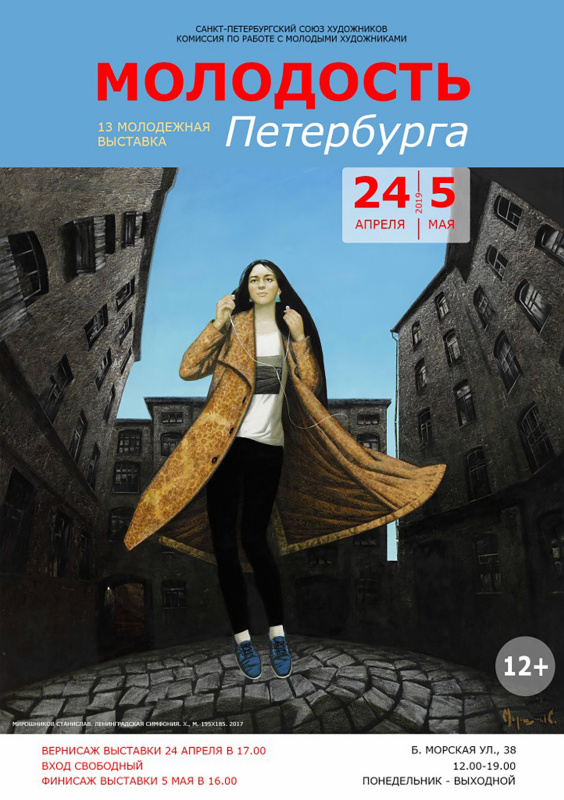 St. Petersburg Union of Artists presents the XIII exhibition "Youth of St. Petersburg", which is exhibited in the exhibition halls of St. Petersburg CX at the address: ul. Big Sea, 38.
The Youth of Petersburg is a large-scale exhibition project in St. Petersburg, where young artists can exhibit their works for the audience.
This is not just a project, it is a professional forum of painting, drawing, sculpture, ceramics, DPI and photography, which has an educational and educational orientation.
Each new generation goes its own way, seeks and tries itself in different directions in art, has its own vision of the surrounding world, in many ways unlike the ideology of the older generation.
Fidelity to academic traditions, new bold experiments in the art of easel painting, graphics, photography, sculpture, and DPI will give new impulses in the evaluation of modern art to viewers, critics, and experienced masters of all types of art. All the same eternal, exciting topics of people's minds, solved in a new way, will not leave anyone indifferent. Modern solutions of creative tasks, backed up by professional education, will constitute the precious frame of contemporary Petersburg art of all kinds.
The cornerstone of the 13th Youth of St. Petersburg exhibition is the difference in styles and trends in the art of young authors.
The exhibition is attended by students and graduates of art schools, creative youth, members of the Union of Artists of St. Petersburg. The exhibition is always of keen interest and allows you to see the ways in which modern young art of St. Petersburg is moving.
Every year the number of participants increases. The project involves more talented creative young people. Exhibitions are becoming more interesting, brighter, larger. We are glad to see you on our project.
Opening of the exhibition on April 24 at 17:00. Solemn closing of the exhibition on May 5 at 16:00. St. Big Sea, 38.