Exhibition 6 − March 12, 2020
NOTHING BOX. Group exhibition of abstract artists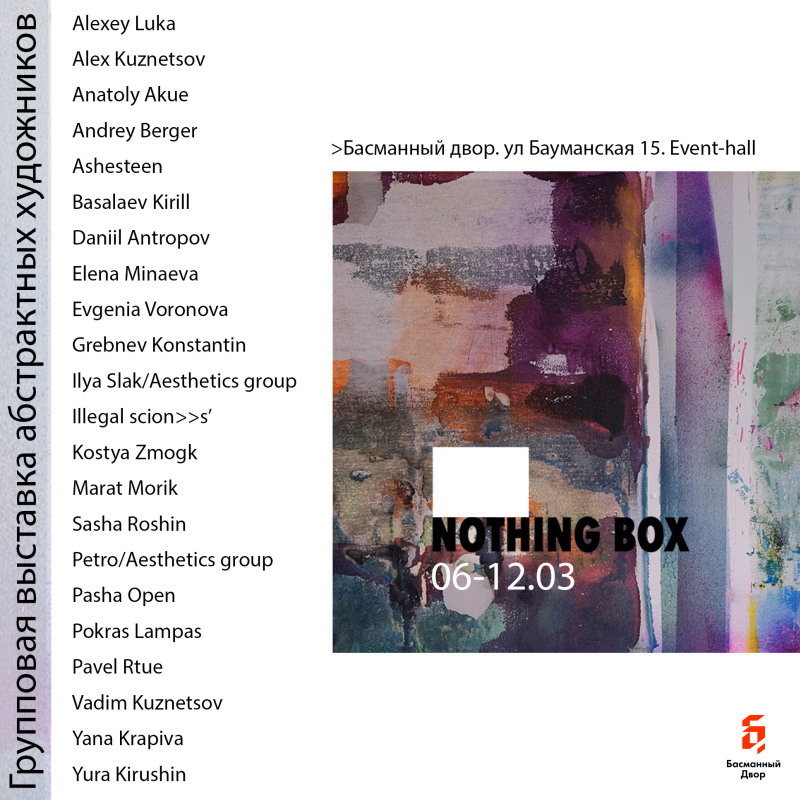 From March 6-12, the event – hall of the Basmanny Dvor is transformed into a gallery of modern art. On an area of 2500 sq.m. The works of 22 abstract artists will be housed.
⠀
Nothing box.
⠀
Everything manifests itself from a box with emptiness, from a state of weightlessness in which we experience everything as it is. A box with emptiness is both emptiness and joy at the same time.
An empty box is a symbol of willingness to open and accept, it is a willingness to share. It is these qualities that are very important in the creation and perception of art. Without this, our experience will not touch the heart, even if the most colorful and fulfilling moments of life flash before our eyes.
⠀
With this project, we present authors who for many years have somehow worked with the topic of abstraction, and also want to show the richness of their discoveries. They range from subtle and sensitive to really heavy qualities of density and intensity, from minimalism to full-fledged painting, from abstract thought to a fully expressed utterance.
⠀
There is no problem of misunderstanding, since we can just honestly work with our perception, so that there is something that will certainly point to your own mind in which the experience of emptiness can be reflected, gradually being in which, fear or aggression disappear and the quality of a radiant presence remains .
The visit is free.
Opening March 6 at 19.00
Registration for the opening of the exhibition at the link
https://basmannyy-dvo…325/sales/
Artists:
@ akue1
@pokraslampas @andreyberger @rtue @ alexkuznetsov.artist @ basalaev.kirill.art @Elena_minaev @_kuznetsov_vadim_ @maratdanilyan @ashesteen @slak_aesthetics @ evgenia101 @sasharoschin_ @zmogestlu @roz