Exhibition September 11, 2021
Exhibition based on the results of a plein air exhibition in Lazurnaya Bay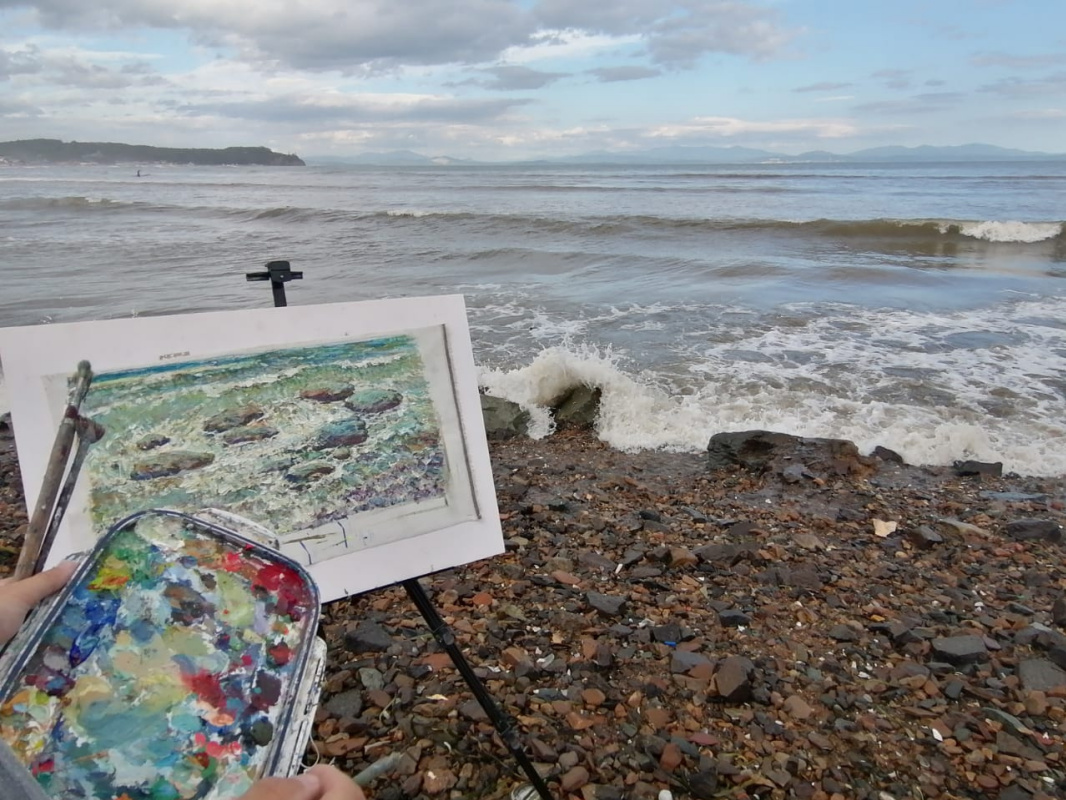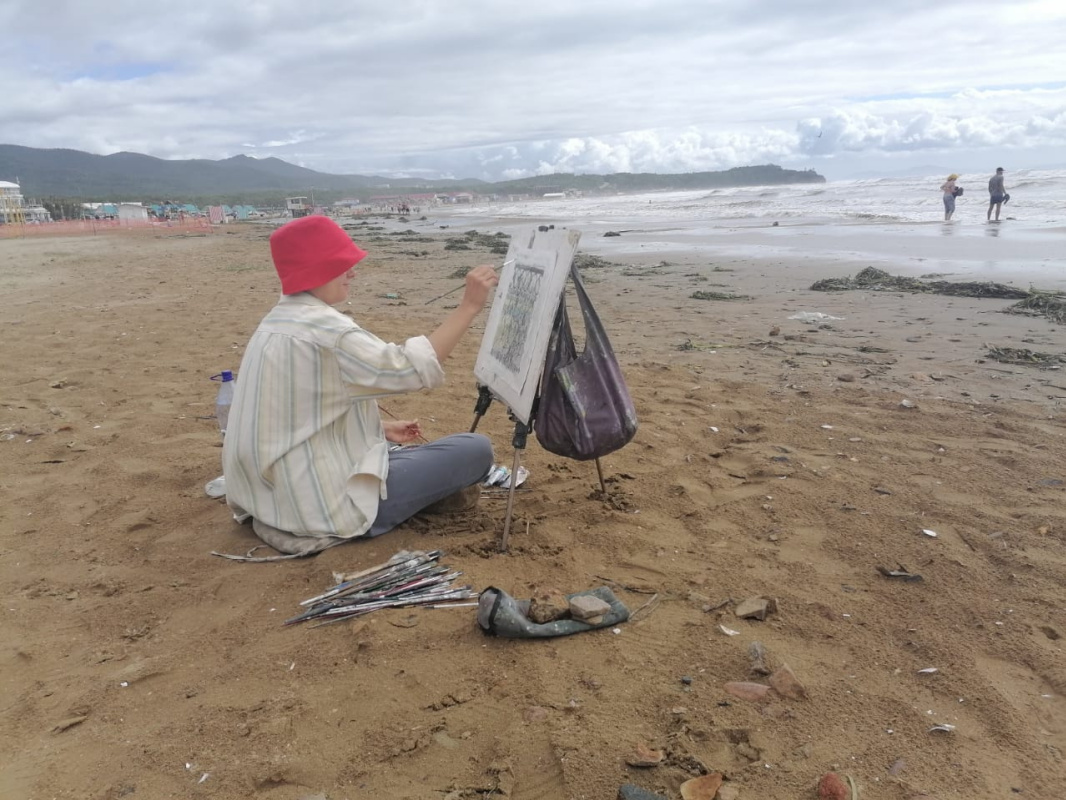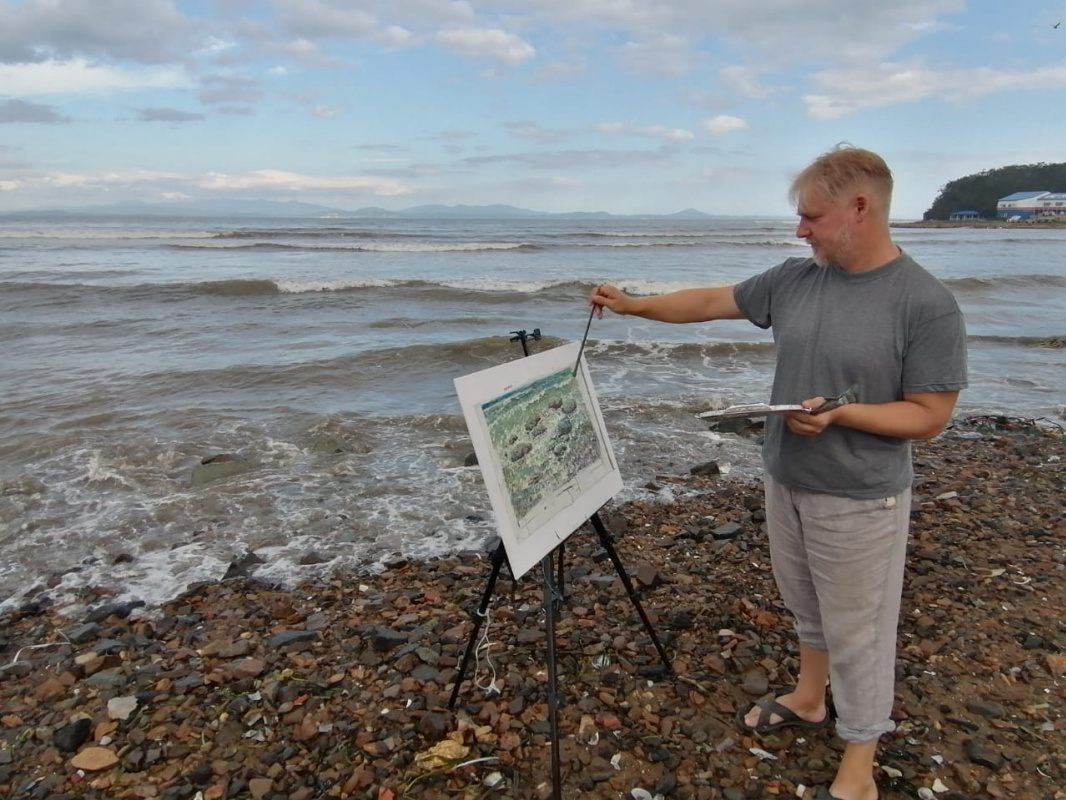 Summer and early autumn are a special period in life of artists - they rush out of town to work in plein air. Plein air sketches are an extremely important thing - they preserve the most vivid impressions of the author of the place where he painted.
At the end of August 2021, the Primorsky State Art Gallery, in partnership with LOTS, organised a pilot plein air session for the first time in Lazurnaya Bay under the motto: "Lazurnaya Bay - Coast of Arts". Alexander Enin and Svetlana Firyulina, talented painters from Vladivostok, were the pioneers.
Lazurnaya Bay is known as an unchanging point of attraction for residents of Vladivostok and Primorye, and for residents of the entire Far East. People have recreation here all year round, regardless of natural seasonal climate peculiarities. It is an ideal place for developing cultural tourism, Ludmila Sleptsova, director general of LOTS, and Alyona Datsenko, director of the Primorye State Art Gallery, decided.
The French Côte d'Azur was taken as an example. Once upon a time, the owners of the hotels there decided to provide artists with free accommodation and work outdoors. The artists paid with their sketches, which then decorated hotel rooms or were sold or kept in personal collections.
And now, the first plein air is successfully completed! On September 11th at 12.00 pm on the terrace of the restaurant "Cruise" in Lazurnaya Bay, the opening of the final exhibition will take place. L.A. Sleptsova, General Director of LOTS LLC, A.A. Datsenko, Director of Primorsky State Art Gallery, artists Alexander Enin and Svetlana Firyulina, curator of the project from Primorsky State Gallery Natalya Levdanskaya. Mass media representatives are also invited. The live broadcast will be carried out. The entrance to the exhibition is free. Opening time is from 12.00 to 20.00. The exhibition may be prolonged on request of the audience.
You can admire the sketches, talk to the artists, get professional advice from an art critic and even buy a picture as a memento of your stay in Lazurnaya Bay.
It is expected that next year the project 'Lazurnaya Bay - Coast of Arts' will be included in the traditional 'Hermitage Days in Vladivostok'.
Information by phone: +7 (914) 706-51-55; 241-06-10
our website:
www.primgallery.com/
Facebook page:
www.facebook.…imgallery/
on VKontakte:
vk.com/primgalleryvl
our instagram:
www.instagram…imgallery/