Chalk Drawings
1,991 artworks, 276 artists
We mainly associate
chalk drawings
and pictures with children's creativity. However, many renowned street artists use this art material in their work. The palette of colored chalk blocks is wide and varied.
Chalk is a sedimentary rock, a type of limestone that consists mainly of calcium carbonate, it is insoluble in water. Since it contains a large number of foreign inclusions, the composition is chemically cleaned before turning into a colored crayon. In addition to calcium carbonate, the crayons also include calcium sulphate (gypsum) and color pigments. This ensures perfect surface distribution and colour saturation. The composition of the crayons and their shape differ depending on the manufacturer, and each artist can choose the materials to their liking.
The history of pavement drawings goes back to the 16th century Italy. It was there that a cute tradition was born: on holidays, they decorated the streets with drawings of the Madonna with the baby Jesus in her arms, which was called "
madonnari
". The artists used flower petals, colored sawdust or sand, and the drawings themselves were done without perspective distortion. A similar technique has long been used in the south of India and in a number of Asian countries to create traditional kolam patterns — symmetrical patterns that are believed to bring happiness, prosperity and understanding to the home. Kolam is drawn mainly by women, using rice flour, sand or chalk mixed with pigments.
The modern history of chalk painting began after World War II, when street artists created their temporary masterpieces for fun of the onlookers for a small fee. Over time, madonnari has become a kind of feature for some centers of urban tourism. Moreover, they began to make pictures with chalk using an optical technique of anamorphosis: from a certain point, the picture becomes three-dimensional, creating a full-fledged 3D effect. Such madonnari in a modern volumetric reading are created by world-famous artists: Kurt Wenner, who adores classical sculpture; Ellis Gallagher, who often depicts the shadow of his bicycle; Julian Beaver, who specializes on realistic dips and bodies of water. Madonnari fans have their own festival: since 1993, hundreds of artists have come to Pasadena (California, USA) every summer to take part in the Chalk Festival.
Another modern trend in chalk painting is information painting on an advertising board, which has become popular in shops and cafés. Such decorative design is performed by professional artists who possess not only drawing skills, but are also well versed in type design. This design is easy to change, and it looks very attractive. Artists use regular and coloured chalk, chalk markers, and pastels.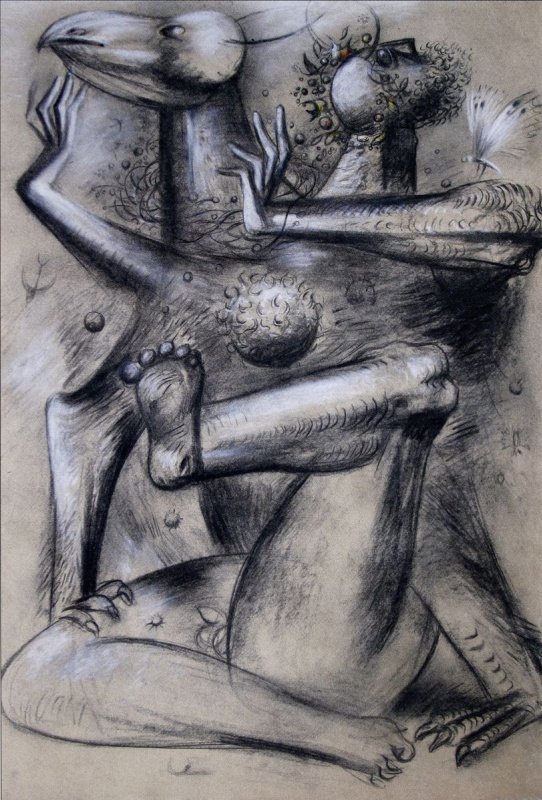 Chalk is a soft and malleable material for drawing; it has become a friend of professional painters and an assistant to aspiring artists. The image appears on paper after a light touch of the material, the saturation and colour transitions depend on hand pressure, and most importantly, the eraser instantly deletes an unsuccessful stroke. In the chalk technique, the artists have developed a number of techniques: drawing lines of different thickness and intensity, strokes, spots, rubbing. The "carrier" plays an important role in the creation of the picture. The density and brightness of the colour directly depend on the texture, looseness of the drawing basis — parchment, paper or cardboard.
Thousands of years ago, our primitive ancestor took a piece of loose rock in his hand and created an image on the cave wall. An artist appeared in the tribe, and humanity began the countdown of the history of fine arts and new graphic technique, chalk drawing. Calcium carbonate with an admixture of metal oxides has become a cheap, affordable and convenient material for creating drafts and finished works. Chalk was always present at the master's hand and allowed to save a creative idea on paper, cardboard or an empty wooden table, create a sketch of a future masterpiece in a matter of seconds.
Leonardo da Vinci was among the first to show what a piece of mineral is capable of in the hands of a genius: the artist was an unsurpassed draftsman. His favourite materials were red (sanguine, kaolin with iron oxide) and black (limestone with an admixture of carbonaceous shale) chalk. The Portrait of a Man in Red Chalk 1513 has fascinated viewers for five centuries. The artist painted with sharpened red chalk and sketched a portrait, which cannot be overshadowed by the masters of oil painting: a domineering and wise look, noble grey hair, skin with deep wrinkles. Leonardo created dozens of striking, characteristic chalk portraits. A Grotesque Head 1502, Study of a Warrior's Head for the Battle of Anghiari, Portrait of an Old Man and a Young Man demonstrate how much the artist was interested in the beauty and ugliness of human faces.
The founder of Russian romanticism, Orest Kiprensky, suffered from the "unattainability" of Raphael's fame, but his chalk paintings, Mother and Child and Portrait of Alexei Vladimirovich Davydov in 1809 were included in the list of masterpieces of 19th century drawing. Temperamental and extravagant Pre-Raphaelite, Dante Gabriel Rossetti demonstrated what chalk can create in the hands of a talented colourist: Pandora 1869, Three Roses 1867, Music 1872, Proserpine 1889 fascinate with their velvet shades and soft colour transitions. 21st century artist Julian Beaver and Renaissance titan Leonardo "teamed up" in the chalk drawing of street art, Still There in the Morning, 2010s.
Famous chalk drawings and sketches:
The Virgin and Child with Saint Anne and Saint John the Baptist 1499, Portrait of a Man in Red Chalk 1513 by Leonardo da Vinci; A Woman with a Child on Her Lap 1660s, A Cow and Three Sheep 1671 by Adriaen van de Velde; A Kneeling Male Nude 1795; Self-Portrait by Joseph Mallord William Turner; Behold the Man 1840s by Karl Bryullov; Portrait of the Poet Valery Yakovlevich Bryusov by Mikhail Vrubel; Proserpine 1880 by Dante Gabriel Rossetti.
Famous artists:
Leonardo da Vinci, Raphael, Rembrandt van Rijn, Edgar Degas, Dante Gabriel Rossetti, Henri de Toulouse-Lautrec.