Exhibition 24 − July 31, 2016
Petr Bystrov | Sacred. Secular.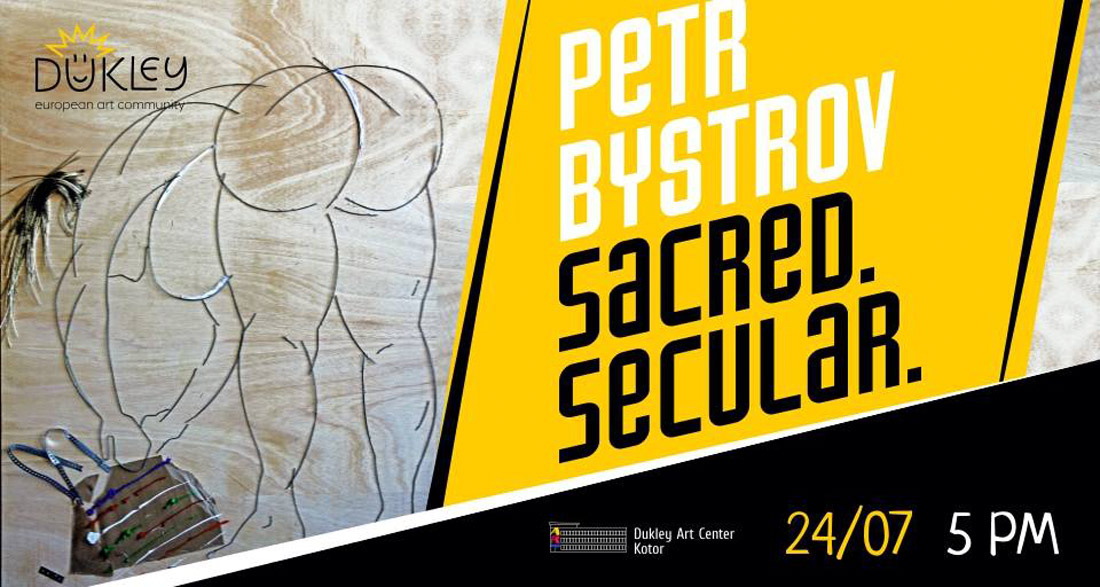 Petr Bystrov A few words from the author.
"How is it possible to form an opinion about anything in a short time?
We live in an era of quick recipes: already on the plane the inflight magazine offers certain pre-prepared packages in the genre of 'must see', 'must go', 'must have' – which in the majority prove to be nonsense, fake, superficial.
All the sacred sites in two days, tombs in a day and a half, museums in a day, and the essence of being – in one second.
Montenegro is a country of great holy sites, and at the same time absolutely secular – like everywhere, a country like all the neighbouring and much more distant countries. Here fashion, tourism, food and services run the show. They liken Montenegro – not in the sense of similarity, but in terms of the proposal forming the informational market – to Italy, Peru, Slovenia and Azerbaijan.
It is very difficult to fly or sail into Montenegro and grasp some sense of its self-identity.
In the project of Sacred and Profane, I made an attempt to describe Montenegro, mainly to myself.
It's a kind of 'note to self' – so as not to forget the important things. They include my personal reminders about Yugoslav cinema and the socialist automotive industry; the three-day visit, in 1974, of Vladimir Vysotsky to Montenegro; sketches of beauties and jokers, sports stars and mountain silhouettes... What else? What else needs to be remembered?
The resounding bell. A new ocean liner, bringin in for an hour, a crowd of people whose tablets and phones are filled with an endless stream of 'must sees'. A physical landing is not mandatory, rather, it is only a tribute to the ancient tradition of bodily tourism.
***
While working on the show, I also thought about the nature of an image of a place.
Whether it is something integrally formed, sent down from above? Or perhaps it is impossible to grasp such an image, it is inaccessible, incomprehensible, and can only become apparent through fragments: an astounding local beauty, a huge rusty anchor, an age-old mountain crevice?
Choosing between too much information (travel guides, tours, national cuisine and techno-dance festivals) and a lack of information (my first visit here, in many respects accidental), I consciously choose the second: the shortage, the accident, a fleeting memory. Collections of books, encyclopaedias and magazines are of little help to me in my investigation.
My picture of Montenegro completes me as a person, because my method, which includes looking at the people, history, places, and events – often leads me back to myself. My eye is habitually enjoys the sight of the bathers' bodies, me ear catches a boding sound, yet another liner has moored...
Thus dawns my new day in Montenegro. "
Galleries at the exhibition