Exhibition 13 − May 30
Exhibition "Anatoly Teleshov (1928-1990)"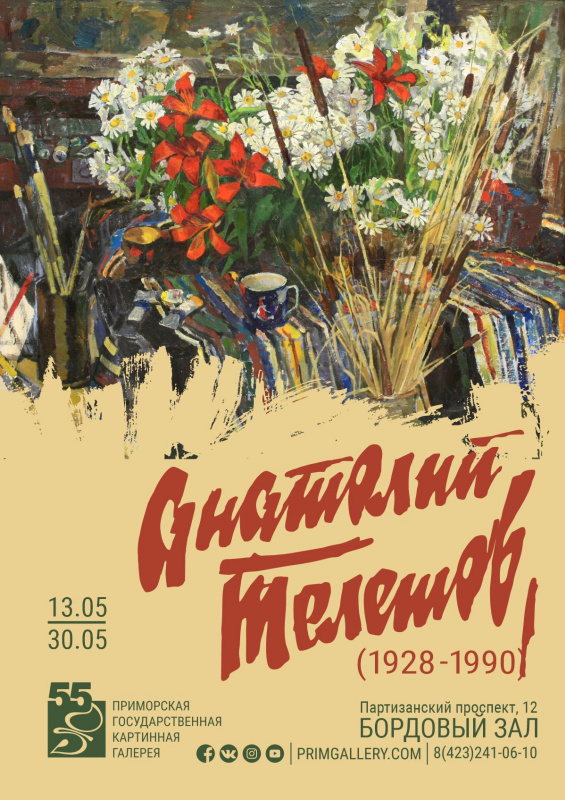 On May 13, at 5 pm, the exhibition "Anatoly Teleshov (1928-1990)" from the collections of the gallery and the heirs of the master will open in the Burgundy Hall of the Primorsky State Art Gallery (Partizansky Avenue, 12).
On May 20, at 17.00, the presentation of the first album-catalog of the works of Anatoly Teleshov, created by his daughter art critic Olga Teleshova and published in the spring of 2021, will take place.
Anatoly Vasilievich Teleshov is an Honored Artist of the RSFSR, a member of the Union of Artists of the USSR, one of those who created the history of professional art in Primorye in the 1960s – 1980s. The works of Anatoly Vasilyevich - landscapes, still lifes, portraits - are distinguished by their skill of execution and lyrical emotional coloring.
The author wrote many of his works at the "Academic Dacha im. I.E. Repin "in the Moscow region, but his main love in his mature period of creativity was a creative dacha in the Primorskaya Andreevka, where many of the works presented at the exhibition were written. Anatoly Vasilievich for many years was successfully chairman of the Primorsky branch of the Union of Artists of the Russian Federation.
Anatoly Teleshov is a participant of more than 70 exhibitions in Russia and abroad. His works are in museums and private collections in Russia, USA, Republic of Korea, China, Japan, Italy, France, Germany. Personal exhibitions of A.V. Teleshov took place not only in Vladivostok, but also in Moscow and St. Petersburg.
The exhibition will run until May 30.
No age restrictions.
Cost: 250 rubles - adults, 150 - pensioners, schoolchildren, students.
We are waiting for you at the Primorsky State Art Gallery at 12 Partizansky Avenue.
For inquiries by phone: 242-77-89, 241-06-10.
Please note that the entrance to the gallery sites is allowed with personal protective equipment (medical mask). A complete list of rules for visiting the Primorsky State Art Gallery during the quarantine period can be found on the official website.